The EU Referendum – what will the leave vote mean for Northern Ireland?
On 23rd June 2016, the United Kingdom European Union membership referendum, also known as the EU referendum and the Brexit referendum, took place in the United Kingdom (UK) and Gibraltar.
This referendum was ordered to determine support for the country either remaining a member of, or leaving the European Union (EU).
According to the BBC, the referendum resulted in 51.9% of voters voting in favour of leaving the EU. Northern Ireland voted 56% to 44% in favour of remaining in the EU, even though the largest party in the power-sharing executive, the Democratic Unionist Party (DUP), campaigned on the leave side.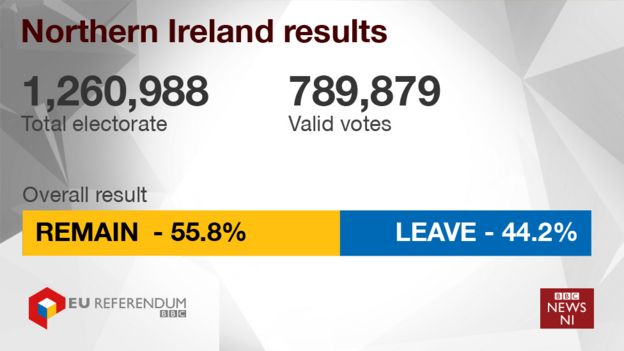 For some remainers – the DUP's then executive partners Sinn Féin, in particular – the result demanded that special arrangements be made for Northern Ireland post-Brexit, ranging from associate EU membership to a north-south reunification. In other words the measures that need to be put in place, in order to avoid a hard border.
According to a recent Irish government survey, there are now around 200 border crossing points and an estimated 177,000 lorries, 208,000 vans and 1.85m cars that travel to and from Northern Ireland every month.
During the 30 years of the Troubles (1968-1998), it is apparent that the Newry checkpoint was perhaps the most dauntingly physical manifestation of the hard border that enclosed Northern Ireland.
However, in the wake of the IRA ceasefire in 1994 and the signing of the Good Friday agreement in 1998, this checkpoint disappeared, along with all the other checkpoints on the many roads that navigated the border.
The free flow of people on the new motorway is perhaps the most vivid symbol of the new Ireland of cross-border co-operation and bridge-building between the governments in the north and south of the island.
In spite of this evolution, the prevailing question now occupying people either side of the Irish border, is: does Brexit mean that checkpoints could reappear, to prevent the movement of goods and people from European Ireland into British Northern Ireland?
Furthermore, earlier this year, British Prime Minister, Theresa May revealed that the UK would leave the single market, explaining that she would negotiate a new customs union deal following the Brexit process.
But amongst many business groups, uncertainty remains around the impact this will have upon cross-border trade, particularly as the negotiations process could take years. Therefore, as well as the risk of a hard border with the Republic of Ireland and possibly a revival of Irish Republican extremism, leaving the single market could also affect trading with EU markets, especially pertinent to small businesses located in Northern Ireland.
Lisa Craig, founder of "Petit Amis" a childrens clothing boutique in Limavady, is uncertain on how her trade will be affected post-brexit.
"As a small business, I'm opened seven years. My store offers a wide range of children's designer wear from newborn to 12 years," says Lisa.
"I stock a variety of French designer brands such as Emile et Rose, Agatha Ruiz de la Prada and Nono, which the business prides itself on. These unique brands resonate the name of my store "Petits Amis" that means "little friend" in French", says Lisa.
"So far I don't see any affect on my business and I am hopeful that Brexit will not impact me too much. As well as French designer brands, I also stock a variety of UK clothing brands which include; "Timberland", "Mayoral" and "Me Too".
Lisa added, "If worst comes to worst and my trade is affected, at least I would have these brands to fall back on. However, it would be devastating if things did change and it would be a huge loss financially to my business."
As well as small businesses becoming affected, grocery retailers such as Sainsbury's and Tescos are at risk as inflation could signify a price increase for consumers. According to Kantar, the price of fish, butter, tea and similar staples have risen by over 5% this year. In comparison to prices last year, like-for-like inflation has doubled and is now at 1.4%. Therefore, because the UK is so dependent upon imported food products, higher import costs mean citizens will ultimately pay more for their groceries.
As a result, there will be uncertainties regarding farm incomes and food prices in the UK after 2020. This is due to the expectation that the UK Government will move from the EU system of single farm payments. In the post-Brexit environment, the UK objective will be to create a type of farm income support which is less expensive.
Therefore, it is apparent that the new post-Brexit situation for farming poses an immediate tension. However, the best answer for Britain may not apply equally for Northern Ireland and this is due to the fact that potential problems will surface. For instance, cross-border trade in cattle, sheep and pigs, as well as milk, will need to be monitored to measure cross-border flows to minimise subsidy manipulation (even if no cross-border tariffs or taxes were introduced).
Despite these potential problems, local farmer, Alan Dickie who works for Thompson Bruce in Garvery, Enniskillen, believes that Brexit will not be too hard-hitting on the industry.
Alan says, "European law introduced a lot of restrictions on farming enterprises such as the slurry ban which means you can only spread slurry approximately 5 months of the year. This forced us farmers to build large storage tanks to accommodate the slurry.
"However, farmers will still get a farming subsidy when we leave Europe and I can't see it being any worse. I think stock prices will be better and our trade will be on the open market. Personally, I will not be sorry to leave Europe," Alan added.
Overall, there is still a great deal of uncertainty surrounding the impact of Brexit on Northern Ireland. As mentioned above, remain campaigners warned in the run up to the referendum that the introduction of a hard border would once again put North-South relations under strain.
They also warned that a Brexit vote is likely to trigger another Scottish independence referendum. For instance, if Scotland voted to leave the Union, this would undermine the UK constitutional settlement, with potential knock-on effects for Northern Ireland.
As mentioned, Brexit is expected to have a disproportionate impact on Northern Ireland's economy which is reliant on exports to the EU, including in the food and agriculture sectors.
Ultimately, the actual impacts would depend on the type of trading relationship that the UK settles with the EU post Brexit. Until then, it remains unclear as to the type of environment Northern Ireland will resemble, when it is no longer contributed to the EU.
For more information visit:
http://www.bbc.co.uk/news/uk-politics-32810887
http://www.telegraph.co.uk/news/0/how-would-brexit-affect-northern-ireland-and-scotland/
https://www.gov.uk/government/policies/brexit